Q: What is a French Drain?
A: French Drains are usually Plastic drain pipe with holes in it to collect subsurface water & divert it from your homes foundation. There is a "sock" or filter fabric that fits over the pipe to prevent soil from entering the holes & clogging the pipe rendering it un-operable. The pipe is set in the trench with the holes facing down to prevent clogging. The pipe is laid in a trench lined with filter fabric & filled in with washed pea rock. The pipe must be pitched to a lower area where the water can drain out.
FITTING THE FILTER SOCK OVER THE PERFORATED PIPE
Multi Flow Advanced French Drainage system is a superior french drainage system that utilizes a series of perforated chambers to collect & divert sub surface water. The Multi Flow pipe comes fitted with a filter fabric to prevent clooging & laid in a bed of coarse washed sand.
---
Q: My house is sinking in some places & causing walls & floors to crack, can this be fixed & how?
Answer: When a house or other structure is built on expansive soil with poor compaction & you have a floating slab ( meaning the slab is not attached to the foundation in any way ) Add water to the mix & the results can be a disaster for your homes foundation & structure. One way to repair a home that is sinking or moving is to inject a concrete slurry, epoxy or chemical grout under the house to fill voids & even lift the house to level. Another way is with helical piers. helical piers are basically jacks that are used under the foundation to jack your house back to level. The piers are left in place. It is important to solve all of the drainage issues prior to repairing the foundation. Click here "Foundation repair specialist" for more about foundation repair.
---
Question: Do you insatll rain gutters?
Answer: No we don't. We leave that up to the specialist! We do work with several Rain gutter contractors that we recommend. Read more about Rain gutters Here.
---
Q: Is your work guaranteed?
A: Yes, we guarantee our workmanship & materials as it relates to the drainage components we install for a period of Two years as prescribed by the AZ Registrar of Contractors. However, we do not guarantee against natural disaster such as catastrophic flooding, any damage caused by stormwater, any damage caused by exspansive soil or any damages to structures for any reason.
---
Q: Do charge for an on-site consultation?
A: Yes we do charge a minimum fee of $200.00 for a basic consultaion in the Metro Phoenix area. Consultations do involve WORK, FUEL & TIME, WE DO NOT WORK FOR FREE, DO YOU? If there is considerable investigation, Reports for the purpose of Insurance claims, Purchasing a new property or large scale plans are needed than the fee will be quoted prior to scheduling a consultation. In most cases at least half the consultation fee is credited to any work we are contracted for.
Our basic consultation will include an onsite meeting, measurements, a basic drainage remediation plan will be developed, Drawn & emailed or delivered along with a proposal to complete the project as per plan.
_________________________________________________________________________________________________________________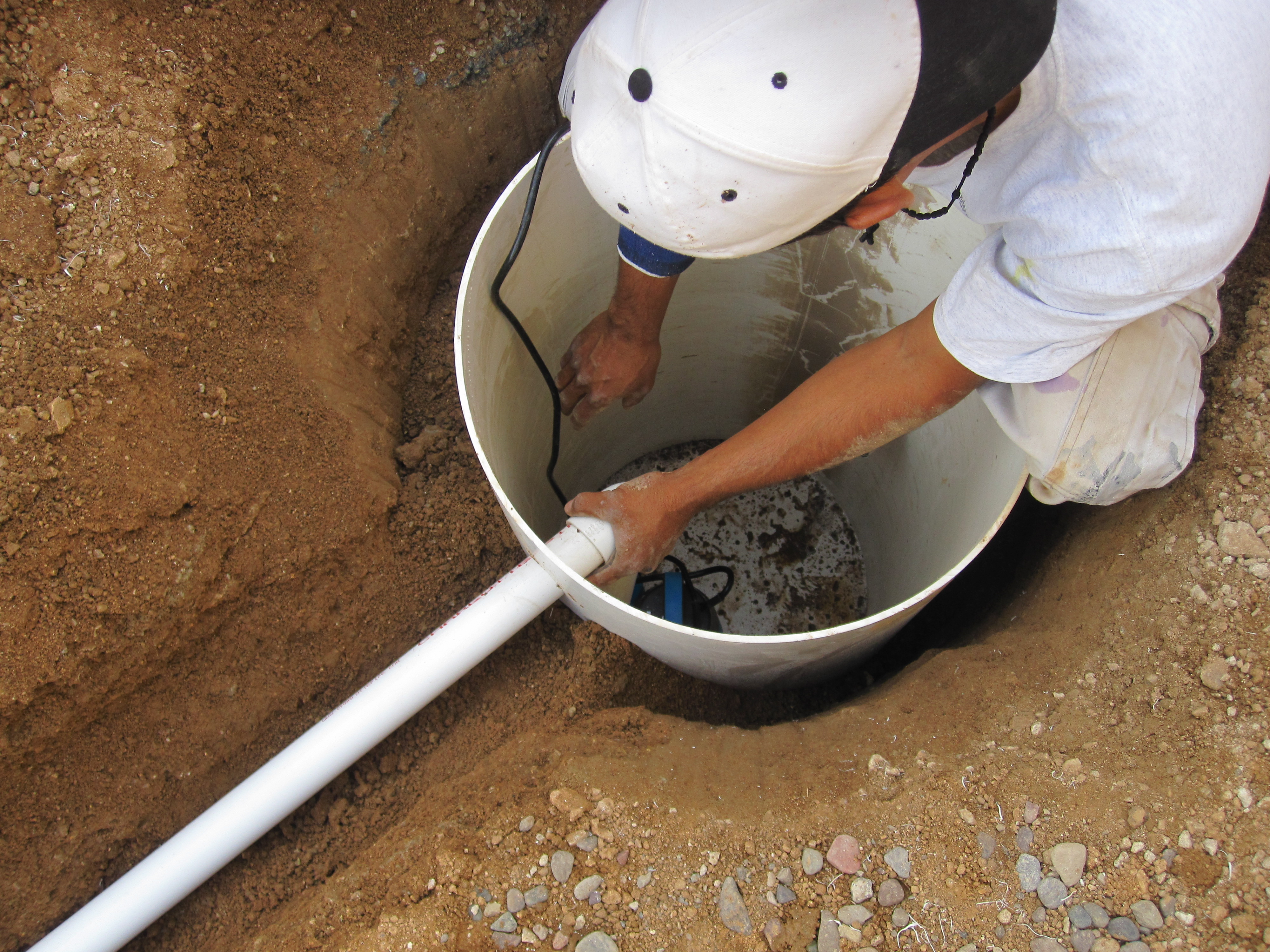 Q: What is a sump & sump pump for & do I need one?
A: If you are from "Back East" Then you probably know what sumps are used for. They are used to pump out basements that can flood frequently.
Another application exist for us here in Arizona. In many cases homes are set on a practicaly level plot of land making drainage difficult. If there is no where to run drain pipe to "daylight" or to a popup emitter utilizing gravity then a sump may be used. By sinking a 20" round PVC pipe usually aout 4' deep, we are able to run our pipe into the sump then pump the water out to the street or other suitable area.
---
Q: Who will be supervising my project?
A: We are an owner operated company. That means the owner will actually be meeting with you & will plan & oversee your project from conception to completion.
---
Q: What about irrigation lines, phone lines, electric gas & other utilities that are in the path of the Landscape or Drainage project?
A: Although we are careful not to cut any of these lines, We can repair any irrigation line that is cut by us. As for utilities, we have your property Bluestaked. This means all of the utility companies will come out & mark where thier lines are running. The Bluestake service is free.
---
Q: How much will a Residential Drainage system cost?
A: All of our Drainage systems are customized to your specific needs. Cost vary depending on various factors. Drainage systems can cost several thousand dollars. Installing underground drainage systems is Labor Intensive. Most of our trenching must be hand dug for most Residential situations where bringing large earth moving & trenching equipment in is not an option. A majority of our trenching requires working carefully around existing Landscape, Gas lines, Irrigation, Electrical lines, Pool lines, Plumbing, Lawns, Concrete decks and other obstacles. Other factors include long pipe runs where our trenches reach 2 to 3 feet deep & 6" wide to facilitate gravity flow.
We carry Liability Insurance, Workman's Compensation & Commercial vehicle insurance that are also calculated into the cost of doing business. We must carry insurance to protect the property owner from any liability if any employee or subcontractor of LDS gets injured on the job.
There are also fuel costs, equipment upkeep, Contractor license fees & other overhead cost that are calculated into the cost of doing business Legally, Safely & Professionally in Arizona.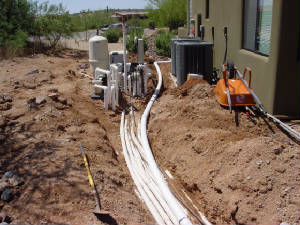 ---
Q: There is alot of info about Drainage & Erosion control on here, can you also handle my Landscape project?
A: Yes we can! We also do business as Sonoran Image Landscapes and have been Licensed Landscape contractors since 1995 . With more than thirty years experience in Landscape design, Installation & Maintenance, We can help you create a beutiful Landscape whether you are needing a Desert, Tropical, Mediterranean or Xeriscape theme. We can also renovate your existing Landscape, Irrigation & Outdoor Lighting systems & fix Drainage or Erosioin problems in the process. From small patio yards to Large subdivisions, we have done it all!
---
Q: What is Xeriscape?
A: Great question! Xeriscape is a method of Landscaping that conserves water by using native & drought tolerant plants & possibly a small island of grass lawn but still provides a lush appearance. Xeriscape has grown in popularity recently & continues to grow here in the Southwest & many other drought striken communities throughout the U.S. As water becomes more scarce we must find way's to cut back on all non essential water use. That is why many Homeowners, H.O.A's, Commercial & Municipalities are adapting thier Landscapes to Xeriscape. Most cities here in the Metro Phoenix area even offer a really nice rebate when removing Grass & converting to a water saving Desert or Xeriscape.
Seven Principles of Xeriscape
1. Thoughtful landscape planning & design - Begin with a plan, whether it's a new or remodeled landscape. A good design will avoid wasting your water, time, and money. Think long-term, and be realistic about the space requirements of mature plants. This will help you avoid maintenance headaches later on.

2. Select low-water-use plants - Many books exist on this subject, and hundreds of native plants, as well as plants from other low-rainfall regions, are adapted to grow in the Sonoran Desert. Keep Principle Number 1 foremost in mind before buying plants for your Xeriscape. A good design is invaluable in selecting and combining water-efficient plants that will add beauty and utility to your outdoor areas.

3. Appropriate turf (lawn) areas - Lawns use a lot of water. For that reason, include them when only a lawn will do, as in a children's play area. Keep the lawn area small and simple in shape, and border it with low-water-use plants. Select adapted grasses such as hybrid Bermudas. Avoid lawn for use only as a ground cover -- use other water-efficient ground covers instead. Inorganic mulches such as decomposed granite use zero water and can be effective as well.

4. Efficient irrigation - Drip-irrigation systems are efficient at applying water to plants in the right amounts at the root zone. Use a timer and adjust schedules as plant needs change with age and from season to season. Check systems regularly to be sure they are working properly. If you water with a hose, learn the water requirements of all your plants -- they can vary quite a bit. Check soil for moisture to see if plants actually need water. Avoid sprinkling; water deeply and infrequently after new plants are established.

5. Improve the soil - Adding organic matter to the soil before planting increases its water- and nutrient-holding capacity, which improves plant growth and efficient use of water. Annuals, perennials, and vegetables -- plants that are planted in close proximity to one another -- are prime candidates. Low-water-use native trees, shrubs, and ground covers usually do just fine in unimproved existing soil, but they often appreciate organic mulches. (See Principle Number 6.)

6. Use mulches - Mulch is a layer of just about any material -- organic or inorganic -- that covers the soil over the root area of plants. Mulch reduces moisture loss through evaporation, insulates plant roots from heat and cold extremes, and cuts down on weed populations that steal water and nutrients from your plants. Add a few inches of organic mulch each spring -- it will decompose to improve the soil.

7. Appropriate maintenance - Healthy plants grow and look better, as you would naturally expect, and use water more efficiently. Prune properly at the right time of year. Do not prune heavily at any one time, particularly during summer. Keep a close and regular eye out for pests and diseases. You want to spot them early when controls are easier and more effective. Keep up with weeds. Don't over-fertilize, which can result in excessive plant growth that requires even more pruning.